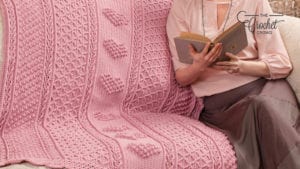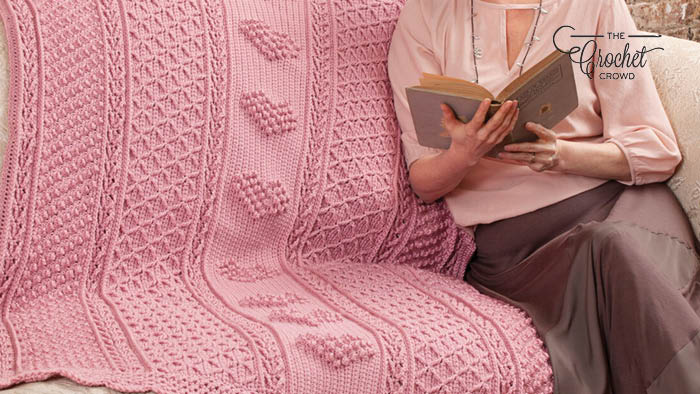 The Crochet Aran Hearts Throw is our next community pattern project. I've had my eyes on this one for a while as the texture really appeals to me.
This is designed by Bonnie Barker for Red Heart. She used Red Heart Soft. It is completed as a one-piece project. When seeing with the model, the blanket sides are the top and bottom as you are crocheting it. The model is technically sitting at the top of the afghan if you want a visual.


She used 11 balls of Red Heart Soft but those balls are smaller, you can substitute your yarn as well but I would stay within the same weight level of yarn. There are 3 sizes of hooks used. 5.5 mm / 6 mm and 6.5 mm or I, J, and K.
This afghan, you can learn many stitches that include the following:
Front Ridge Stitch
Arrow Stitch
Single Crochet Popcorn Stitch
Diamond Stitch
Popcorn Heart Stitch
Woven Stitch
There is repeating of the stitch work which makes it easier to follow along. For example, the front ridge stitch combined with the arrow stitch shows up 6 times. The Popcorn and Diamond are completed twice and the centre hearts are only once.
I believe this afghan would be ideal for really special occasions such as weddings. I would consider a light gray or for each separate area to be a different colour within a shade family.
Tutorial
The tutorial is just one. There will be a menu on the video itself to be able to fast forward or reverse. For example, you will do the Front Ridge and Arrow Stitch first and then do the Popcorn. There's no point putting a second or more section of the front ridge and arrow stitch over and over again in the tutorial.
Pattern Suggestions
More Stitch Alongs