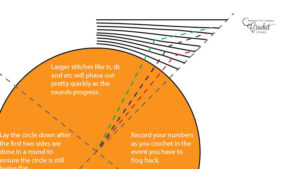 The Crochet Circle to Squares Sides Calculator will do the math for you.
There are two calculators below. The first calculator will allow you to locate what the stitch count is for identifying where the corners are. Then, you can add in what stitches you would like to use and it will auto calculate the balance.
We have a Circle to Square Worksheet where this information is laid out. This calculator below helps you with mathematics.


The second calculator is for any rounds after the 1st one is completed to keep the stitch counts in balance. You will need to know the stitch counts per side. those stitch counts DO NOT INCLUDE the corner spaces from the round below.
---
---
More Ideas
Calculator: Yarn Substitutions for Yardages

ore Collections
More Free Patterns to Enjoy