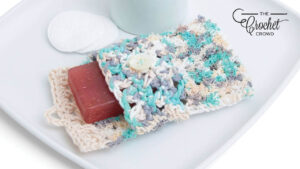 The Crochet Mesh Soap Saver for the person on the go where lugging some soap around is ideal. Mesh allows the soap to breathe to dry out and uses cotton yarn so it can deal with the wet soap.
I created a complementary tutorial for it to assist those who want one for themselves. May make a great little item for a craft show with higher-end soaps to sell.
The original yarn was the Lily Sugar'n Cream Scrub Off but I substituted in the tutorial for regular Lily Sugar'n Cream yarn. Be sure to always use 100% cotton for your kitchen and bathroom needs as cotton is the best yarn to deal with being wet or damp.
More Ideas

Tutorial
Releasing March 18, 2022
More Collections