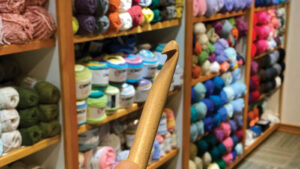 There are some crochet stitches that exist that are so evil and awful, it causes me to roll my eyes back into my head and give it the finger!
I know, we use our fingers and wrists to create magic but sometimes, there are stitches that are definite RSVP DENIED right out of the gate. You know, those stitches that you see in a pattern and it's the decision to persevere or to say to yourself,
"This ain't happening… not now, not later… not ever!"
My List of Crochet Stitches:
The Puff Stitch… Save the aggrevation and just punch me in the face already! If that hook snags one more time pulling through all of those loops! I am going to lose my 'stitch'. Seriously pretty to look at but if you are a tight crocheter, but like the game of Monopoly… do not pass GO, just go directly to jail!
The Bullion Stitch… Dare I say more! You want me to wrap the hook 10 times and then smile as I catch each loop and start off saying oh my gosh to words that don't exist in Websters! Please… don't make me do it! Bullion Stitch you say… never heard of it! That's my immediate answer. Denial is bliss!
Graphghan Stitches… I know some of you are like superheroes at doing picture blankets and stuff. It's not for me. The love button on Facebook deserved to be pounded a few times. I start to blackout as soon as I hear the word bobbles! It's all blur now! The tangling of the bobbles is enough to make me march through a cornfield like Oprah in The Color Purple!
Half Double Crochet Straight Across… What did I tell you about wire hangers! NO WIRE HANGERS! I seem to lose 1 stitch per row! I don't get it.  I count… I do… I see dead people! Don't even get me started in doing half double crochet in the rounds, you may need to come and find me in a trailer down by the river!
Long Repeating Patterns like of 30 rows or something…. I have a short attention span and I want to see results right now, not 25 rows later. I want in on the project, I want off on the project. I don't want yarn-play. Let's get it done and hurry up, I'm starting to see shiny things to distract me! Oh look a disco ball… what were you saying to me again? 
Ch 1, 1 sc in the first st when starting a Fresh Ball of Yarn on a Row / Round… Are you kidding me… really? Let's just pretend that the extra chain one isn't noticeable! uh huh! That's like a green tile in the middle of a beige tile floor! My eyes go right to it. Luckily Daddy knows how to solve this with standing single crochet. I know this is standard but still… It's right there… LOOK right there! Do I need to march over there and show you myself?
Front Loop / Back Loop Combo…. Just call 911 right now! Someone is going to seriously get hurt! Someone clearly had too much time on their hands to develop that! Not even going to say it's pretty because that encourages people to do it more! Not happening, fingers in ears … la la la la la!
Ch 2 doesn't count as stitch, Ch 2 Counts as stitch… OMG is crochet that hard we cannot make up our minds! It is or it isn't! Let's standardize this right now and be done with it! My gawd. BTW, it doesn't count as a stitch because that's when I drop stitches for my hdc double crochet rows and rounds that then all hell breaks loose!
FO… as the abbreviation… I'm sorry, I'm a dirty bird. This abbreviation speaks to me but not as Fasten Off, if you know what I mean! Wink wink, nudge nudge, say no more! 😀
Break VS Fasten Off… Okay, let's deal with this. The break is when the project isn't done but you are changing colours. Fasten off means the panel or final project is completed. For a time in my crochet career, I was literally snapping my yarn to break it! OMG, can I honestly be admitting to being gullible! I figured there was something to do with the scissors or something. Roll your eyes… and you follow me… sorry about your luck!
Back Post Double Crochet When having to Go Back to Create Braids!… I think it's easier if you twist my round body into a pretzel! I'm a cheater and just do it on the front side! Does that make me bi-stitchual?
In crochet, most times its happy little birds, unicorns and a side of joy but there are some things in crochet that make me go coo coo for cocoa puffs! Do you have things that drive you nuts! Leave me a comment here on the blog!
I'll grab some pink swirly drinks, you dish the dirt! I'm listening!
More Ideas
More Collections