Crochet Pebble Textured Hats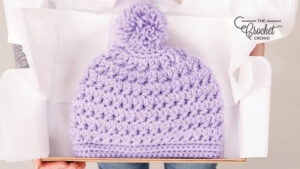 The Crochet Pebble Texture Hats are sized in 3 different sizes. We have adults, kids of 6 - 8 years old and toddler of 2 - 4 years of age.
These hat patterns were used in the past for a past charity oriented project and the pattern has been revived again for the Caron Kindness yarn. The texture is highly desirable and thickens up the hat texture for more warmth.
There is 1 Different in the Tutorial Shown
Due to the gauge difference of Caron One Pound versus Caron Kindness, the tutorial shows the other pattern indicating it's from 8 - 10 years of age. Caron Kindness is slightly thinner in strands, so the same written pattern produces a hat of 6 - 8 years instead.
I have carefully gone through the pattern for any differences in the written instructions, other than the sizing, and the information is the same. So, therefore, the tutorial shown is accurate.


Tutorial
More Pattern Ideas
More Hats to Enjoy
More Caron Kindness Patterns to Enjoy
No post was found with your current grid settings. You should verify if you have posts inside the current selected post type(s) and if the meta key filter is not too much restrictive.