Stitch-cation Afghan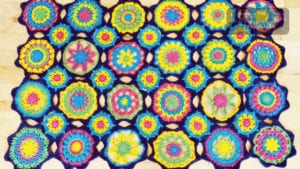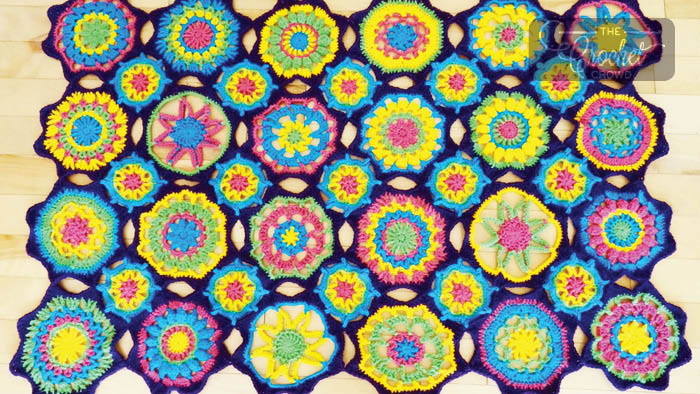 It's funky and filled with 7 different motifs to bring your Stitch-cation Afghan to life. The afghan is 35" wide by 52" long.
Stitch-cation is a pattern mash-up of motifs found from two different free patterns found on Yarnspirations which include the Crochet Tucson Throw and Crochet Lenox Throw designed by Treva G. McCain for Caron Yarns. To make it even spicier, I had created two additional motifs for this design.
There are 6 large motifs in this design plus 1 small connector motif.
The biggest tip of all for these. I would complete all of your motifs with not doing the final round for each. I would then lay it out to figure out where you want your motifs in your afghan. Then strategically complete the last round so that it will join its neighbour. The very first large motif you do must be done completely so then next motifs begin joining to that one.
The small connector motifs are the last motifs to be crocheted into position.
The pictures below show each of the motifs completely done for you to visualize but the final round should be joined to the neighbour. Those instructions have been included in our eBook as well as each video tutorial.


There were over 120 examples of this Stitch Along created by crocheters globally. See the Gallery of Finished Examples.
I will note, my main take away from this stitch along was that it was too lacy in appearance. It would be a lesson that ensuring the next stitch along wasn't the same in appearance. 
Free Downloadable eBook
We have a free downloadable eBook called Stitch-cation 2015. Inside the free eBook are all of the written patterns which include tips and advice. All of the patterns have links directly to the video tutorials. You will need access to the internet when clicking the links for the videos for your browser to open.
You are welcome to print your book and/or save it to your computer for future reference.
More Pattern Ideas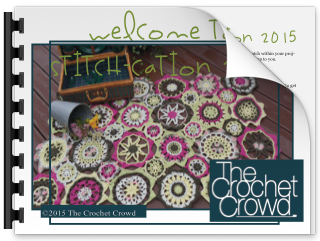 All Video Tutorials In One Video
More Stitch Alongs