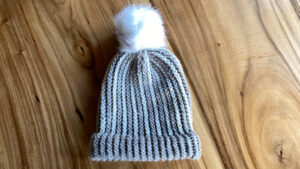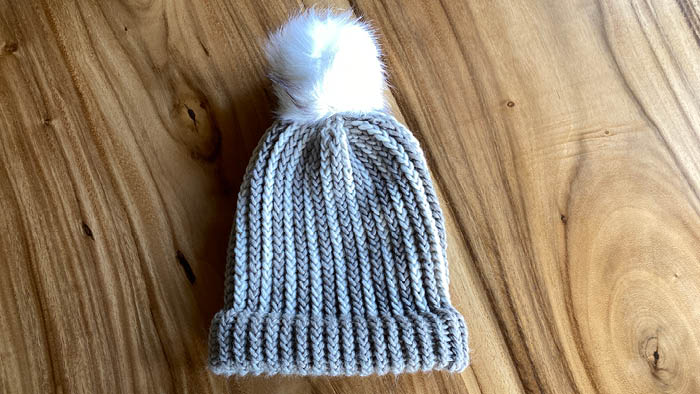 The Adult Loom Knit Striped Alpaca Hat is using Patons Alpaca Blend yarn.
We will have tutorials linked below once they are ready for the concepts in this free pattern.
The yarn is a roving yarn with 22% wool, 10% nylon, 60% acrylic and 8% alpaca. This means, it's incredibly soft and will be warm with the combinations of the wool and alpaca together. The hat is extremely soft and dense. It's finished with a store-bought pom. You will have enough yarn to make a handmade pom as well.
To be considerate of costs, the loom is double wrapped instead of running two strands at the same time so you not using two yarn balls of each colour. Technically though, if you can spare the yarn,  double wrapping will seriously speed you up. This means you need to eWrap the loom twice before knitting to get the two strands you need to fill in the hat. When casting on, you need to eWrap the loom 4 times. The bottom two strands go over the other two strands at the peg at the same time. To do the next round, eWrap the loom again twice and then knit.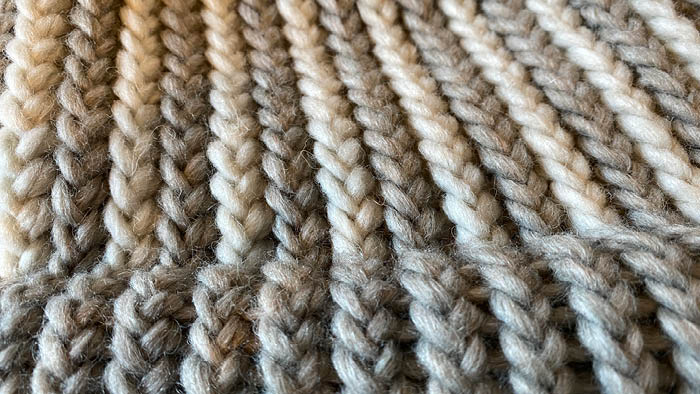 The second colour is started after the brim is started. When eWrapping, you will skip every other peg with the main colour. You will go around twice. Then knit the last peg wrapped so it doesn't unravel.
Then with the second colour, eWrap the loom twice on the pegs not used by the main colour. Knit the last peg so it doesn't unravel.
Now knit the entire loom so all pegs are finished with knitting before beginning again.
The yarn strands can tangle, so you need to stay organized. I will have tutorials on how this is done in the future.
More Ideas

Tutorial
How to Double Wrap
Striping Tutorial coming soon.
More Loom Knitting