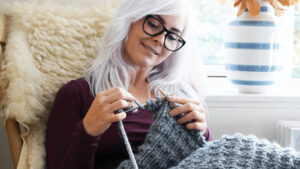 Have you ever wanted to learn knitting? Brian may be your option at eKnitting Stitches.
Finding the right host, as there are so many great hosts online, is the trick to furthering your yarn education. You may be able to connect with Brian You can find him on his Facebook Page.
Brian has pulled together a lot of resources in this article of Beginners Guide to Knitting to get you started and well on your way.
More Ideas

Basic Knitting Tutorial
Free pattern for this blanket can be found here. Beginners Knit Baby Blanket.


Loom Knitting