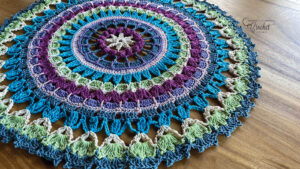 The Crochet Mandala Doily is a beautiful table topper that has the diagram included with this design. I used Patons Grace. My version is 20" diam.
I used a 2.5 mm / C hook for my version.
My colour breakdown in Patons Grace, you do not need more than 1 ball per colour and in fact, in some colours, you don't need very much yarn at all. When deciding my colour, I literally look at the colour and assigned the letter without consideration of the project itself. I just let the colours play their own tune, sort of speak.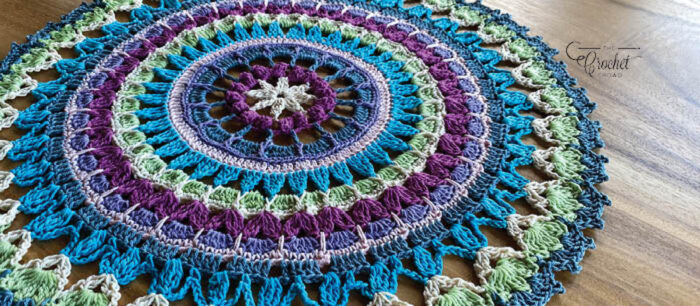 A - Natural
B - Aquifer
C - Viola
D - Ginger - Uses the most amount.
E - Citadel - Uses the most amount.
F - Blush
G - Orchid
I'm not a fan of using crochet thread, so I looked at Patons Grace as it's a bit thicker and is also mercerized cotton. When I am looking to change something from thread-based, I look to Patons Grace. Yes, it will be a bigger project when I do that.
My version is the same pattern but with 1 stitch changed on the final round. Instead of double crochet going into the Ch 5 space. I just did a half double crochet into the sc below. It was my own personal choice and if I film a tutorial, you will see why I did that.
Tutorial Finished Sample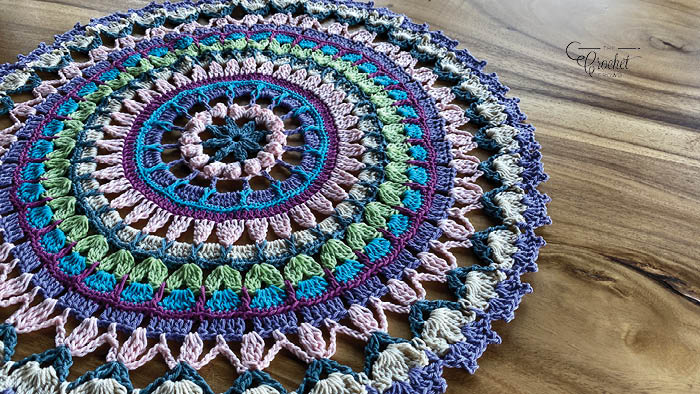 A - Citadel
B - Blush
C - Aquifer
D - Natural
E - Viola
F - Orchid
G - Ginger
My colours also suited my home decor the best. It's nice to be bright and cheerful but I wanted a doily to be better aligned with our tabletop surfaces and personal taste.
You are going to need to wet block this is in the end. Just get it wet, do not wring out but squish to remove extra water and lay on a surface with it positioned for display and dry naturally.
Original Version
The original is only 14" dia.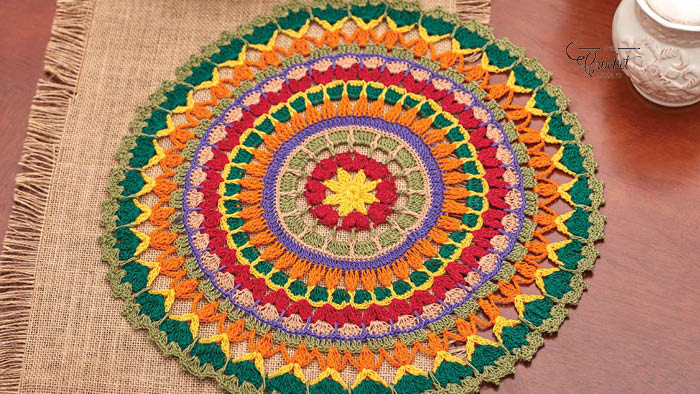 Wet Blocking
I have added wet blocking to the end of the tutorial to show you how to do the final step. Add water to your doily. Shape it on a surface and let air dry for best visual results.
More Ideas

Tutorial
More Mandalas