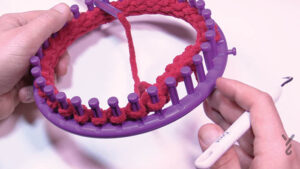 Binding off in loom knitting is a way to keep the project open at the top. Shown here in the round loom.
The biggest tip is to watch the tension of the yarn, you want to be relaxed in this process and you can bind off and make it so it has no give and doesn't look like the beginning round. When you see it here. you can see I'm a little too tight. So take what you see as a lesson.
You will methodically knit and move loops from one to the other during the process.
More Ideas
Tutorial
How to Cast Off With Hat
The stitches are gathered and pulled shut.
More Loom Knitting