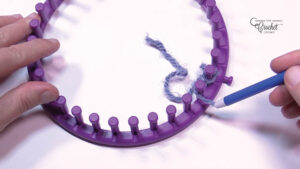 Casting on with a round knitting loom is made simple with eWrapping.
With a feeding empty tool pen, you can spin around the pegs really quickly and begin the cast on processes.
eWrapping is referred to this as you are forming the small letter 'e' around each peg. This wrapping technique keeps the stitch full and fabulous.
See how it's done in the tutorial below.
More Ideas
Tutorial
More Loom Knitting