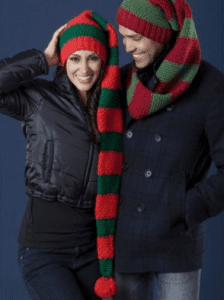 Crochet Long Pointy Hat
Get out of the box and have fun with a Scarf Hat. I know from just looking at this hat design that not everyone would get away with wearing a hat such as this but Hey, some of us like to be different and go against the normal grains of life.
Initially, I thought the hat was like a Santa or even a hat. The colours sure suggested that to my mind but then once I read the synopsis, I realized it's actually a two in one hat.
I think the right person can pull this off nicely. I can also see this type of design in a Christmas Parade dancing on a float or something. I know by the time the parades start in our region, sometimes the weather is really frightful but we get on the curbside and cheer our fellow community members on.
I think if I were to do this pattern, I would break the norm of red and green and come up with a fun and bright colour scheme. I may add snowflakes or something.


More Pattern Ideas
Some Messy Bun Hat Patterns
No post was found with your current grid settings. You should verify if you have posts inside the current selected post type(s) and if the meta key filter is not too much restrictive.
More Hat Pattern Ideas