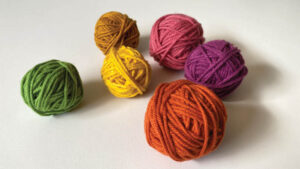 The question many have is will they have enough yarn to get through a project. It's not guessing, it's mathematics. Figured out by Yarnspirations to know how many metres to purchase for the average project. Of course, some projects are yarn pigs like the crocodile stitch or textured stitches but this will give a close idea.
This doesn't tell you colour breakdowns if you are changing colour, just total metres roughly in a project. This is the Canadian or those using metric for measurements.
If you prefer yardages, go here for the Yardages Per Project Type.
---
Yarn Labels
You will find the metres per ball, skein, O'Go, hank, cakes or cones on the labels of major manufacturers.
You will see the weight assignment as well to match the project with the hook or needle size. In the label below its #5 Bulky Weight.
Generally speaking, crochet uses more yarn than knitting.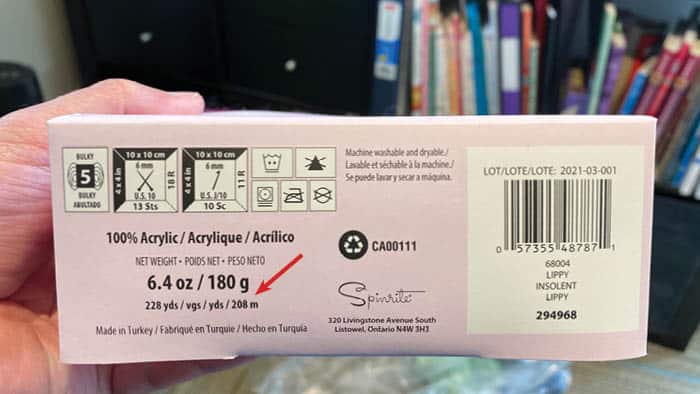 Example:
In Bulky #5 weight and I want a baby blanket that is between 800 to 914 metres. Use the metres on the package to figure out the number of balls you will need. 
914 metres divided by 208 metres shown on package = 4.39 balls. Round up to the nearest whole number, in this case, 5 balls. So I would buy 5 balls of this to make the baby blanket.
---
Super Fine #1 Weight Projects
Hats 229 to 297 metres
Scarf 480 to 755 metres
Socks 320 to 457 metres
Sweater 3086 metres
Baby Blanket 1372 to 1486 metres
Afghan 3429 to 3772 metres
Shawl 503 to 777 metres
---
Fine #2 Weight Projects
Hats 229 to 297 metres
Scarf 412 to 572 metres
Socks 274 to 411 metres
Sweater 1600 to 2400 metres
Baby Blanket 1143 to 1486 metres
Afghan 3200 to 3429 metres
Shawl 411 to 640 metres
---
Light #3 Weight Projects
Hats 183 to 229 metres
Scarf 343 to 458 metres
Socks 252 to 365 metres
Sweater 1318 to 2058 metres
Baby Blanket 1029 to 1143 metres
Afghan 2744 to 3200 metres
Shawl 366 to 572 metres
---
Medium #4 Weight Projects
Hats 183 to 206 metres
Scarf 343 to 457 metres
Socks 252 to 343 metres
Sweater 1029 to 1486 metres
Baby Blanket 914 to 1029 metres
Afghan 2058 to 2858 metres
Shawl 343 to 503 metres
---
Bulky #5 Weight Projects
Hats 114 to 183 metres
Scarf 229 to 343 metres
Socks 229 to 320 metres
Sweater 869 to 1029 metres
Baby Blanket 800 to 914 metres
Afghan 1829 to 2057 metres
Shawl 320 to 458 metres
---
Super Bulky #6 Weight Projects
Hats 114 to 137 metres
Scarf 229 to 343 metres
Socks 183 to 229 metres
Sweater 755 to 1029 metres
Baby Blanket 686 to 800 metres
Afghan 1486 to 1829 metres
Shawl 320 to 434 metres
---
Jumbo #7 Weight Projects
Hats 27 to 55 metres
Scarf 114 to 182 metres
Socks 160 to 183 metres
Sweater 754 to 1028 metres
Baby Blanket 572 to 686 metres
Afghans 1257 to 1486 metres
Shawl 275 to 366 metres
---
More Ideas
More Collections
1

2

3

4

5

6

7

8

9

10

11

12

13

14

15

16

17

18

19

20

21

22

23

24

25

26

27

28

29

30

31

32

33

34

35

36

37

38

39

40

41

42

43

44

45

46

47

48

49

50

51

52

53

54

55

56

57

58

59

60

61

62

63