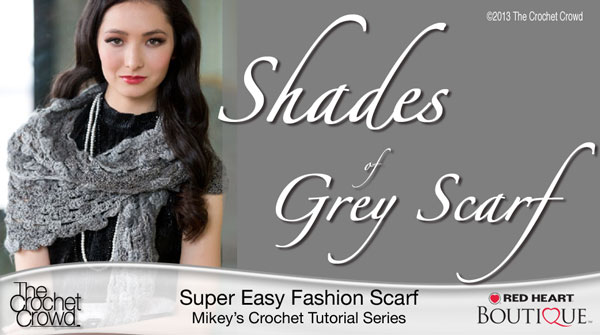 Quick & Fun Shades of Grey Scarf
Introducing a brand new scarf design in 2013. This is called the Shades of Grey Scarf. Let's be honest though, if you are not liking grey, you can use this pattern to be a shade of any colour that suits your own personality.
If you look closely at the model, you will notice the scarf is wrapping around her twice. The scarf is 84″ long by 6″ wide. It's super easy to make your own too. The designer, Mary Kathryn Vaughn, is a friend of mine from Facebook. I met her through AllFreeCrochet as she was a Tutorial Host for AllFreeCrochet like I was. Mary Kathryn's pattern was accepted by Red Heart Yarns to be showcased on their website.


Pattern Suggestions
More Scarf Pattern Ideas
Some Shawl Pattern Ideas