To keep things interesting, a personal focus on rectangle designs was the ticket for many of the filming tutorials for 2023. Of course, stitch-alongs are decided well in advance.
We continued onward with texture and pushing skills to new heights for 2023.
Each project below is linked to where the free pattern and tutorials live.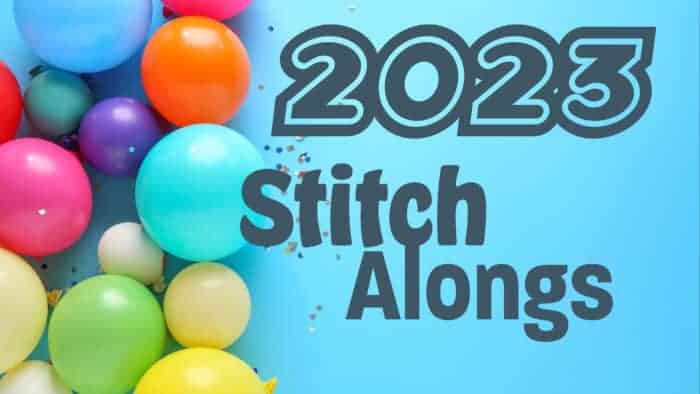 Focus on Wearables
Yarnspirations was pushing me to do more wearables to expose new crocheters on what is possible with a crochet hook. I decided to try and make my first-ever sweater for myself. This was the Men's Crochet Sweater Weather Pullover. I used Red Heart Roll With It Melange for this version.
To keep balance, I did a second sweater in tutorial format. Like most clothing on Yarnspirations, sizes range from XS adults to 5 XL. This was the Crochet Party People Sweater.
You can use your Red Heart Super Saver in striping format.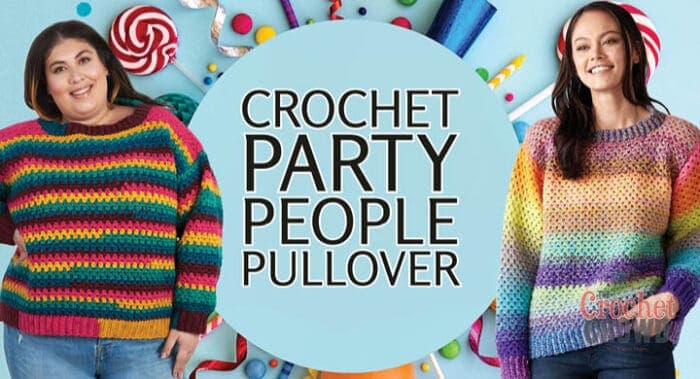 JOANN Spring Stitch Along 2023
Check Please, Crochet Stitch Along came as our spring stitch along with JOANN. This had three skill sets to pickup such as the moss stitching stripes. There was a revisit to the waterfall stitching to make the checkerboard. Finally, there was a new concept for creating plaid or gingham.
We used Caron One Pound and Caron Jumbo yarn.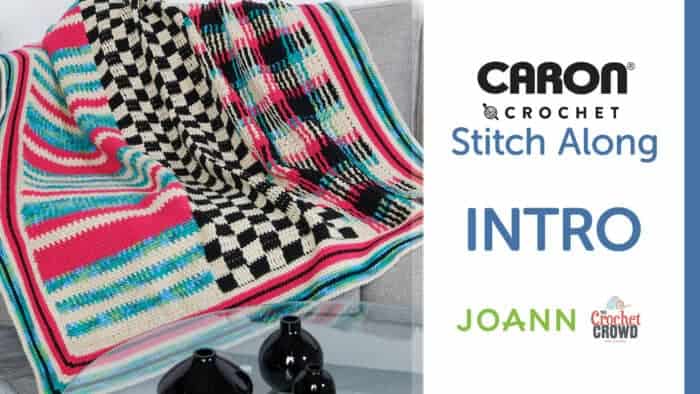 Focus on Crochet Animal Squares
Sarah from Repeat Crafter Me went on a yearly exploration of Animals Squares. Releasing one per month. This was her Animal Squares Stitch Along. The patterns were free and easy to follow. Don't underestimate the simplicity.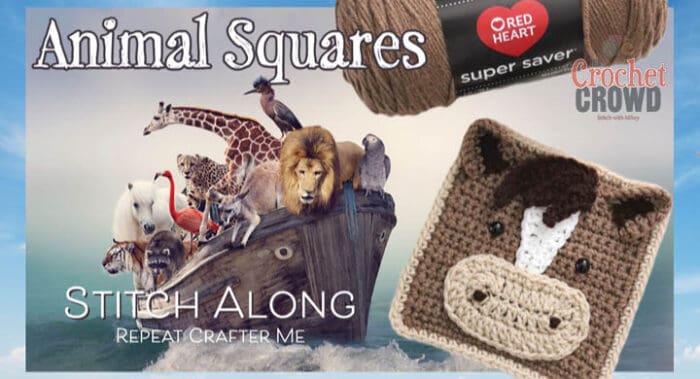 Yarnspirations Summer Stitch Along
As in years past, my annual summer stitch along rolled back around. This was a tough pattern to design and became my nemesis. I came to know this as the Study of Determination Crochet Blanket. It has my signature texture, and so many people had amazing colour play with this.
I focused on Red Heart Comfort as my yarn of choice.
Jonah's Stitch Sampler
Yarnspirations asked me to visit this new free pattern that had so many sampler squares inside the design. This blanket was made for Jonah Larsen, young ambassador for Yarnspirations. This was the Jonah's Stitch Crochet Sampler.
You can use your Red Heart Super Saver for this.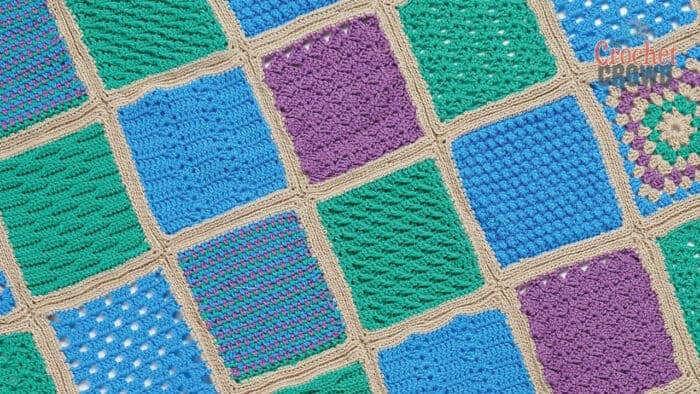 Crochet Study of Rage
I became consumed with rage over something that happened behind the scenes. Determined not to work for a day, I channeled my effort into making this design and doing most of the design in stitch format by the end of the day as well. This was a Study of Rage Crochet Blanket. There was no tutorial made for this version.
I used Red Heart Super Saver Brushed for this version.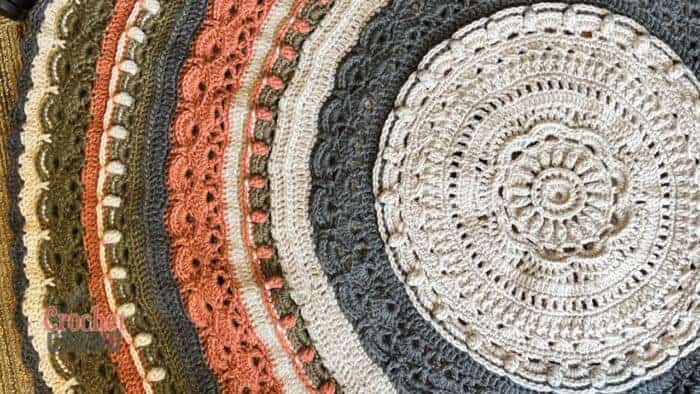 Retro Ornament Christmas Throw
I've been curious about this throw for years and decided to tackle this as a stitch along. This is the Retro Ornament Christmas Throw. There is also a fall version to this in the same article. It's the same pattern but just a different colour palette. This yarn focused on Red Heart Super Saver.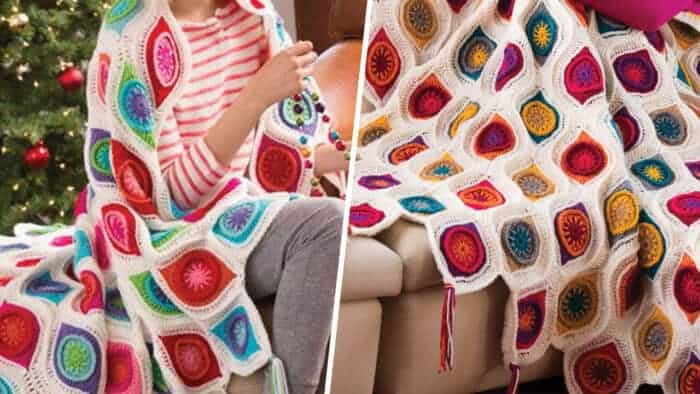 Fall JOANN Stitch Along
The fall JOANN stitch along came again, and this time it showed a brand new yarn called Bernat Blanket Perfect Phasing. This pattern grows really quickly with really unique stitching. It was also using Bernat Plush yarn too. This was the Open Flower Crochet Stitch Along.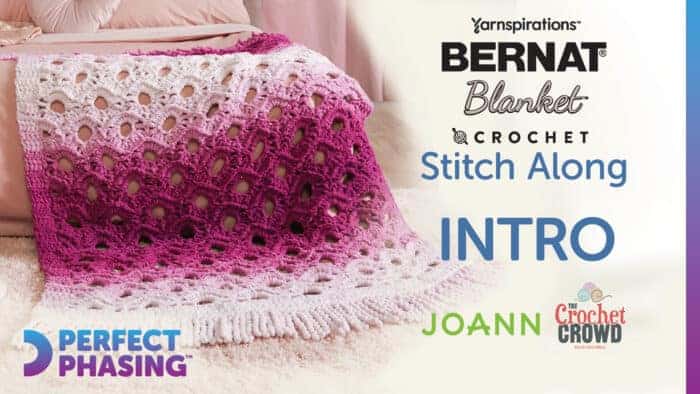 Festive Crochet Stitch Along
Another festive throw from the past is the Crochet Snowflake Throw. Designed by Jessie Rayot using Red Heart Super Saver. The tutorial version shows the snowflakes in tapestry format like the original but also gives you an optional interlocking effect too.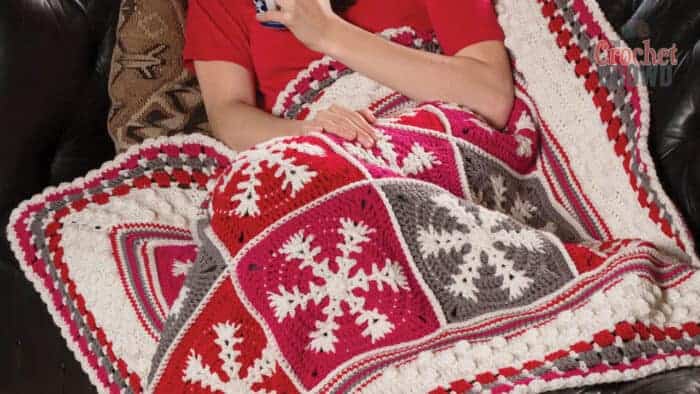 You also may enjoy a stitch along from the past which was the Crochet Peppermint Afghan that has similar experiences to create the unique-looking blanket. The pillow was also done as well. The pillow is called the Peppermint Pillow. Both are using Red Heart Soft yarn.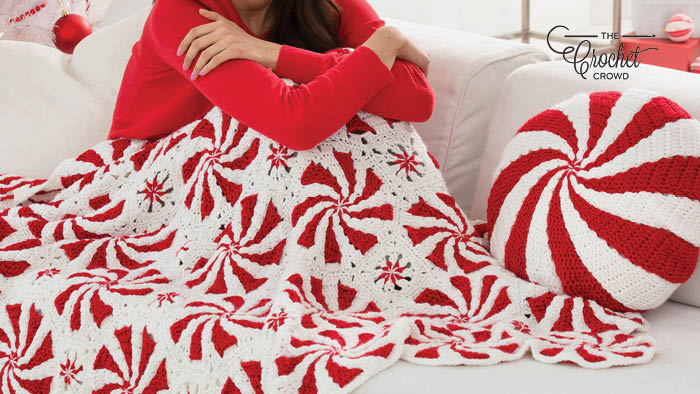 Annual Boxing Day Stitch Along
Jeanne designed her yearly stitch along again this year. This is the Inspired by Colour Blanket. I challenged Jeanne to use colours typically seen in Christmas wrapping paper. She hit out a challenging stitch along example for us to enjoy.