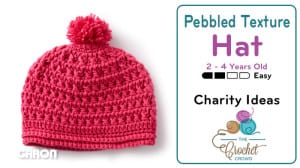 Pebbled Texture Hat for 2 - 4 Years Old
I absolutely love this Pebbled Textured Hat. In the photograph is the adult size version but today's version here is the 2 - 4 years of age size. It's smaller, of course. I'm absolutely head over heels for this design. Incredibly easy to master, it's skills I didn't have beforehand and the textured stitchwork looks incredibly rich. Also, due to the stitchwork, the hat is thick to provide extra warmth!
In the tutorial provided below is the 2 - 4-year-old size from the pattern. I have provided an additional tutorial below for the pom-pom. Though my versions don't show the pom-pom in the video, I really do think this hat looks incredibly adorable with one.
This is classified as an easy level and I would agree with that. You will learn criss-cross front post double crochet to give you the pebbled look. If you are looking for a charity project to donate or definitely for someone you love. This hat is definitely one to consider!
For those who need help in the instructions, please refer to my tutorials below. I will get you hooked up with the details and show you step by step!


Pattern Suggestions
Video Tutorial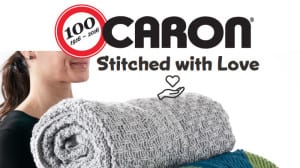 Stitch it Forward
Yarnspirations has released their latest Lookbook called Caron, Stitched with Love. The book of free patterns for both knitters and crocheters has one central theme, charity. It focuses on simple projects and some that require a bit of knowledge of crochet. Personally, I love how the Lookbook allows new crocheters to learn new skills but also for the ones who have some skills to go a step further. Not only is this book charity oriented, but it also a great starting point for crocheters and knitters to do something more than practise with stitches. It will allow them to learn, grow and contribute to their own community with the projects they create.
The project above is from this Lookbook. This article is one specific pattern and I have a tutorial that matches it for those who need an extra helping hand with the instructions and skills needed to complete the project.

Some Hat Pattern Ideas
More Hat Pattern Ideas
Messy Bun Hat Pattern Ideas
No post was found with your current grid settings. You should verify if you have posts inside the current selected post type(s) and if the meta key filter is not too much restrictive.