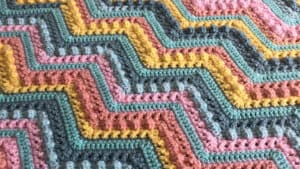 We specialize in free patterns to ensure crocheters of all financial levels have the opportunity to learn and create something amazing with their hooks.
The art of creating a pattern relies on many things, which I think a lot of it is luck. The right time, the right place. Yarn availability is a huge element as well.
Designing within a price point that is suitable to most is also a huge factor. Choosing the right yarn and colours. People need to see the option that a pattern will fit into their lifestyle.
Generally speaking, at least for our community, people seem to gravitate towards a bit of texture without jumping through hoops. Having said that, my designs tend to be a barrel of monkeys at times. I get bored with simple or no repeats and I like to throw the kitchen sink.
Most of the top-rated patterns are by Jeanne. She has figured out the simple repeating that people adore. They want success and repeats that are easy to get stuck in the mind to put down the pattern to enjoy.
Top 25 Patterns
Click the pattern that tickles your fancy.
More Collections