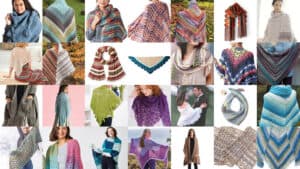 Below is a master list of 73 shawls. Each one of the patterns is free. Simply click on the photo and it will forward you to get more information about the pattern.
The top gallery is just the free patterns, there are no tutorials for those. However, you can leave me a comment below if you wish to have a tutorial made. Tell me the name of the project and why you think it needs a tutorial.
The second gallery is the free pattern and tutorials have been made for those already. By clicking the picture, you can have access to both the pattern and tutorial.
Crochet Shawl Patterns Only
Leave me a comment if you think one of the patterns in the PATTERNS ONLY section needs a tutorial. I will be checking back often to see what you think.
Crochet Shawl Patterns with Tutorials
Pattern Suggestions
More Crochet Collections to Enjoy